Program
Regenerative Business Mentorship
Past Participants Testimonials Any organization built for success in the 20th century is doomed for failure in the 21st century. – David Ross Work is love made visible. The goal is not to live forever; the goal is to create something that will. – Kahlil Gibran Hi, I'm Javan (on the left) and I'm Rob (on the… Read more »
Explore this Section:
Past Participants Testimonials
Any organization

built for success in the 20th century

is doomed for failure in the 21st century.
– David Ross
Work is love made visible.

The goal is not to live forever;

the goal is to create something that will.

- Kahlil Gibran
Hi, I'm Javan (on the left) and I'm Rob (on the right).

And we want you to exponentially grow your business; understand and charge your value; remove the barriers for your clients and customers; answer sticky questions; be a part of a supportive, kick in the ass community; and fully affect the change you want to create in the world.
The long and short of the program: 3 months of business coaching and mentorship starting September 15th, 2017 to help you work on your business while you're working in your business, addressing your roadblocks, frustrations, and opportunities with us and a mastermind community of peers working in regenerative businesses, using solutions and principles to level up. 
If this sounds good, ask yourself:
"Is my business where I want it to be?"
If it is, fantastic. Let's have you on our podcast, showcase your business as a case study and work together on a project.
If your answer to the question is, "not really" or a flat out "nope", then grab a cup of tea or beer, sit down in your comfy chair or up against a tree, print this off or bring your computer and answers the questions below.
Are you:
… consumed with working in your business vs on your business?
… saying yes to every opportunity and regretting 90% of them?
… struggling to understand your value and stand behind it?
… confused on how to communicate your value to potential clients?
… afraid of charging your value because of what your clients and peers might think of you?
… working on a great idea and worried you don't have the big view to make it a success?
… working on an established business that's not where you want it to be?
What could you do with direct conversations with two experienced entrepreneurs who've made the mistakes you're making now (and many, many more), and used those mistakes to craft principles and techniques that not only built their own successful businesses, but their students and clients' successful businesses in design, food production and consulting?
We think you'd be able to improve your business exponentially.
In fact, we know it: because we've done it before.
We're here to share the principles, the lessons, and all the juicy bits we've learned over nearly two decades of doing business ourselves, and the knowledge we've gained working with our clients to build their livelihoods.  
Origins
Recently, Rob and I were speaking with a group of students during a Permaculture Design Certificate, and we had an idea. What if we sat down and offered an open season session where students could ask us any question, or flat out advice on their ideas for a new or existing business or about our businesses?
We asked the students if they were interested, and their reply was a resounding YES!
So we deployed a rapid prototype, an hour and a half session, right then and there that very same night.
The results?
Three-quarters of the class didn't want to leave, it was twice as long as we planned and several students told us:
"This was the most valuable session of the course,
and perhaps the most useful stuff I heard this year."
The Pondering
That got us thinking: how could we help our students, clients, friends, and colleagues improve their businesses?
We are in our work because we feel it's the best way we can help the planet and each other grow and thrive during times of uncertainty. And, so many of the people we want to succeed are struggling either because they aren't asking the right questions or they aren't honest with themselves about their businesses, markets or product, or the essentials of their enterprise.
We've helped clients, students, and even colleagues improve their own design, consulting, farm and education businesses; magnifying their effect – producing businesses that both thrive and contribute socially, ecologically, financially and more...
But we looked around and saw our clients, friends, students, and colleagues struggling with the same things we did years ago. We realized it all boiled down to one essential question that all those students, clients and colleagues were asking:
What would have helped us best when we were starting out in our own businesses?
The Solution
We answered that question with a two-part program starting with an initial 3-month program. This program is based on what we would have needed to excel in our design, consulting, farm and education businesses, looking back to where we started and where we were in the middle.
What follows is the description of the first part; 3 months of communication, camaraderie and getting into the core of what makes you and your business tick.
Depending on where you're at in your business, there are a few different ways to participate: from just learning about the principles we've found to be essential.
Why us?
We live, breathe and sleep design and land based business work.
We've individually been steeped in this work for close to a decade each, helping students, colleagues, and clients improve and grow their ideas into viable businesses, and their struggling businesses into thriving operations.
Recently we've helped:
… a poultry farming couple

doubled their product income

.

… a young permaculture designer

increase their consulting rates by 10X,

with clients still saying '

you aren't charging enough!'

.

...two edible landscaping businesses narrow in on their weak links massively increase their peace of mind and double their gross income.

...help catalyze

50+ regenerative businesses

throughout Canada

… a land designer to see they were experienced enough not to take $4,000 worth of training.

… a

sheep farm-saved $20,000 in infrastructure costs

.

...reposition and brand a farm to be

a product leader in grass-fed protein

within their bioregion. This farm

increased all their prices by 33%.

...assist countless consulting businesses (former students)

in understanding how to determine their value, position their consultancy and sell and charge for jobs.

… an edible landscape design client understood that having a name people understand and identify with is more important than what you do in an industry that is new and hard to comprehend.

… an incubator farm

structure their land base agreements to accept the farmers they love

and joyfully say no to the ones they don't.

… a client decide to purchase a

$750,000 home for rental income

(which they did).

… a micro-dairy reorganize their milk CSA to decrease work and increase total net profit and customer satisfaction.

… a not-for-profit

create a food forest

that produces income and demonstrates their value to the world.

...prevent a couple from spending approximately

$1,500,000 on a non-profitable project
Here's what past participants had to say about this program.
"Through the new intake process we developed from this
mentorship, we have now increased our design/diagnosis rates by 50% - 300% and created ease and clarity with each new client we interact with.
 Going through the processes of finding a good fit and knowing who one's ideal clients are is an utterly refreshing, empowering and essential process this mentorship has brought us through.  We have also taken a major step in learning to say no when a client isn't a fit for us or we aren't a fit for them, I can't express enough what a relief that is."
Nick Poeta - Edible Landscapes Design
" I could easily value Rob's advice in the $10K to $20K range, especially for his advice on things related to business/ personal development, design, engineering, and water management. Yet in many ways, this would still be an undervaluing of Rob's help… I find it impossible to place an appropriate dollar value on something that to me is truly invaluable. I would not be at nearly the same point in my  career, nor would I be the same person, if it weren't for Rob's influence in my business and life."
Luke Kimmel - reGenerate Design Ltd. - Ecological Design
Who's this program for?
In short, this program is for us.
This is the program we wished we had 5-10 years ago before, just as we were starting out.
It's for people like the clients, students, and colleagues we've worked with before, including:
Land designers

Broad-scale farmers

Small Business Owners who align their ethics with their practices

Ranchers

Small-scale farmers including
Urban Farmers

Mushroom Growers

Flower Growers

Educators

Agricultural Value Added Producers

Small Livestock Farmers

Charcuterie Artists

And those who see the uncertainty in the world and want to help by adding their ethics paired with their efforts thoughtful and purposefully.
But this program is not for everyone.
Beyond the occupations of the folks above, this program is for those that find themselves nodding with the statements below. I have a business...
idea but I'm

worried about how to start

.

that

isn't as profitable as I want it to be

.

that

I'm working IN but not ON

and it's

starting to get to me

.

that

runs my life, instead of supporting my life

.

that I subsidize with other work; be it off the farm or off the desk.

that

I love but it needs fine-tuning

.

that I work alone in, and

outside support and community would make all the difference

.

and

would love support from mentors

who have a

proven track record

of helping folks like yourself

make more money

and

feel better about my work

.
If you found yourself saying, "That's me" or "Oh man, is that me" to the above, we think you'll like our approach of working on principles and the results they produce.
"Rob Avis has not only been an inspiration to me in
my business since the day I met him, he helped support me through the first broadacre design I undertook as a professional. Knowing I had his expertise to draw on gave the client the confidence to hire me for the job. Rob coached me through the design and placement of a dam which would have been beyond my scope of practice had I not had his support. That job has earned me $15,000 to date and is still ongoing. This has since led to many other broadacre designs. Knowing I have Rob's knowledge and experience to draw on should I need it reassures me that I can provide the best for my clients."    
Jessica Robertson, Wild Craft Permaculture
What You'll Get - The Principles
Over 3 months, you'll get 6 Principles, explained in 6 audio files, delivered to your Inbox on the first and third week of the month.
At the end of the week, we'll follow up with a live 1.5 hour Q&A session answering any and all questions about that principle helping you to understand, integrate and move past any resistance you have to adopt these principles in your business.
You'll learn to use principles over recipes, acquiring mastery as they help you think for yourself rather than being dependent on any one person or tool. Working with principles not only makes you money, it saves you money…
"I was working on a mycology project and was about to invest $25,000 and I thought, 'I need Javan!' But I stopped and instead asked, 'What would Javan do?' He'd tell me to use the principles and tools I built with him. I considered the opportunity and found out it wasn't a good fit. The money was never spent. THANK YOU."
Breanne Quigley - Pig Farmer and Charcuterie Artisan
The Principles
To understand principles, consider a chef versus a cook.
A chef can take random ingredients and make something remarkable.
A line cook – unless they have a recipe – will look dumbfounded at the ingredients. If they do attempt a dish, they'll try to shape the ingredients into what they already know.
A chef has principles they can apply to any dish.
A cook is restricted by the recipes they know.
Principles change the way you look at the world.
In fact, principles change the world every day.
Recipes force you to see the world though the recipe itself while missing details and opportunities along the way.
Ever missed the finer details of a business transaction because of something you thought to be true?
Yea… we've done that as well.
We were line cooks, focused on recipes for a long time.
Over the last 10 years we adopted a principles-based business approach and found that instead of looking at the recipe, we started asking:
"What is the best fit, for this client, in their context, and most importantly, for me and my business?"
This shift in perspective was, is, and forever will be a GAME CHANGER.
No matter the situation, respond instead of reacting we can respond in our, and our clients' best interest.
You can imagine the result.
More clients.
More business.
More profit.
From putting out fires every day to managing the opportunities that have you saying "F**k Yes" or "Hell no."
(PS. We swear sometimes)
(PPS. Did you hear that science has proven that people who swear are more honest?)
You can see why principles matter so much.
The Mentorship
Connecting with peers, colleagues and thought leaders within our industry has been a foundational, irreplaceable element in our success - as entrepreneurs, consultants, and community members.
We regularly mastermind with each other and connect with forerunners in the farming and design field including
Joel Salatin

Jude Hobbs

Darren Doherty

Ariel Greenwood

Curtis Stone

Grant Shultz

Matt Powers

Luke Callahan

Zach Weiss

Ethan Roland

Gregory Landua

And many, many others.
If it's true that you are the average of the 5 people you connect with most often, then it's by hanging out with each other, the folks above and many others, that we've leveled up 2-3x this year alone.
"Javan's curiosity, breadth of knowledge, and thoughtful perspective all combine to make him a valued advisor to everyone in the regenerative agriculture movement"
Grant Schultz - Versaland - New Farm Supply
During our program, we'll be surrounded by motivated and like-minded entrepreneurs that have each other's best interest in mind, just as you'll have their best interest in mind.
Everyone from beginning to end shows up with value to help each other level up and improve themselves and their businesses.
Everyone will have access to a private community where you can ask for help and answer the call for help from others.
Open Season Video Q&A
One thing we've benefitted greatly from is frank and open discussions with colleagues.
Open season Q&A sessions are opportunities to ask the hard question and get real answers.
Not to mention raw feedback.
In our personal mastermind sessions with each other, the ability to ask frank and open questions has allowed us to peer into the inner workings of each other's businesses and ask "Why is that there? What do you do with it? Is it useful?"
On the second and fourth week of each of the 3 months, we'll have a 1.5 hour Open Season Q&A webinar. Everyone who shows up can ask what they need to. We'll answer and the rest of the group can weigh in on our Mastermind Community.
As Rob said the other day, "I would have given anything to ask someone design or business questions when I started. I made so many mistakes that were avoidable now that I look back."
Even if that question is "Is this really the right business for me?"
And the answer is "No."
Sometimes the answer is a negative-positive, telling us what not to do, which is valuable beyond measure, saving you thousands of hours of life energy; the ultimate currency.
Think back to when you were starting something new. If you had the opportunity to ask any question about anything and receive balanced, thoughtful commentary by someone who took on your problem as their own, how would that have changed the outcome?
We know the answer - as we have clients right now who are paying us $300-600/hr and up with some paying us $5,000 to $8,000 a month to keep us on retainer for design work advice and business coaching.
But, that isn't your cost… not by a long shot.
"Javan's impact on my professional life has been critical to my success. He has a unique ability to perceive opportunities and to provide sound feedback. It's a pleasure working with such a down-to-earth mentor and friend."
Tim Wickstrom - Reforged Ironworks and Edible Earthscapes
Q&A Audio Recording
Have you ever been to an amazing event, listened to the presenter and the audience's questions and thought, "I wished I had recorded that!"
We thought again: if we were in this course, what would be of the most value to us? 
You remember that time we spoke about converting potential sales calls into design contracts using a CRM?
You don't need to.
You can listen at your leisure if you can't make the call, or want to go back and listen to a particularly good piece of advice.
Growing Good Business Video Series
A few years ago during the first Permaculture Voices Conference in San Diego, Rob and Michelle Avis recorded some of the top farmers, designers and regenerative business practitioners speaking about their success. They asked the questions:
What Does it Take to Be Successful?
What are you biggest Mistakes and Barriers to your work?
What are the Opportunities you see in regenerative business?
And here's who answered:
Adam Brock

Bill Bean

Doniga Markegard

Rishi Kumar

Luke Callahan

Phillippe Choiniere

Neil Bertrando

Jack Spirko

Geoff Lawton
All of this content over 7 hours of distilled wisdom is available for you to watch, be inspired by and act upon.
Money Back Guarantee
After running this program and working with a community of practitioners that called this program "the best money I've spent on a business development hands down" we're putting our money where are mouth is. 
If after two weeks (one principle podcast, one principle Q & A and one Open Season Q & A) if you feel like this program isn't going to bring you to where you want to be... we'll offer a 100% money back guarantee.
"I can confidently say that every $100 I have put into Rob's mentoring or courses has led to a $10,000 out in either profit, quality of life, or time saved. His ability to pinpoint the opportunities in the market and recognize how my specific business and skills can seamlessly grow or transition to meet those needs is something I can't see while I am head down working."
Jordan Saunders - Tree Folk - Buck. Split. Deliver
"Price is what you pay, value is what you get."
Value vs Pricing
After we built the structure of this program we stepped back and asked, "What do we charge for this?"
We didn't want it to be out of reach for the folks we wanted to help.
And we have a strong principle that we value our work.
We regularly consult with clients and past students on a weekly basis. Many are under a full work contract to meet a specific goal or target and we don't charge but the hour, but rather by completing our client agreed-upon objectives (a principle we work by).
Working backward from our contracts, our hourly fees are between $300-600 each. Taking the low end of that range, an hour and a half conversation with both of us would be $900.
For two 1.5 hour calls a month, that would be $1,800.
But instead of charging that, we're offering you folks - the people we want to see succeed, a fraction of that price.
What do you charge for a community of like-minded ethical entrepreneurs that are looking for help and advice as much as they are willing to give advice?
What do you charge to be part of a group that is not only working together in some of the most important work on the planet but also diving into your business, looking at it from not one, but 25 different angles?
We went with our guts knowing that we were offering at least 6 times the value and felt if we were seeking an investment, we'd want a return of at least that much.
If not more.
"Javan helped prevent me from potentially making a $50,000 mistake in a mere 15-minute phone conversation - not from sharing his own opinion on the situation but from asking the right questions, that illuminated my own needs and weak links, making the decision obvious.  I am so very thankful to have access to his guiding influence when needed."
Zachary Weiss - Elemental Ecosystems - Holzer Certified Designer
The Program Schedule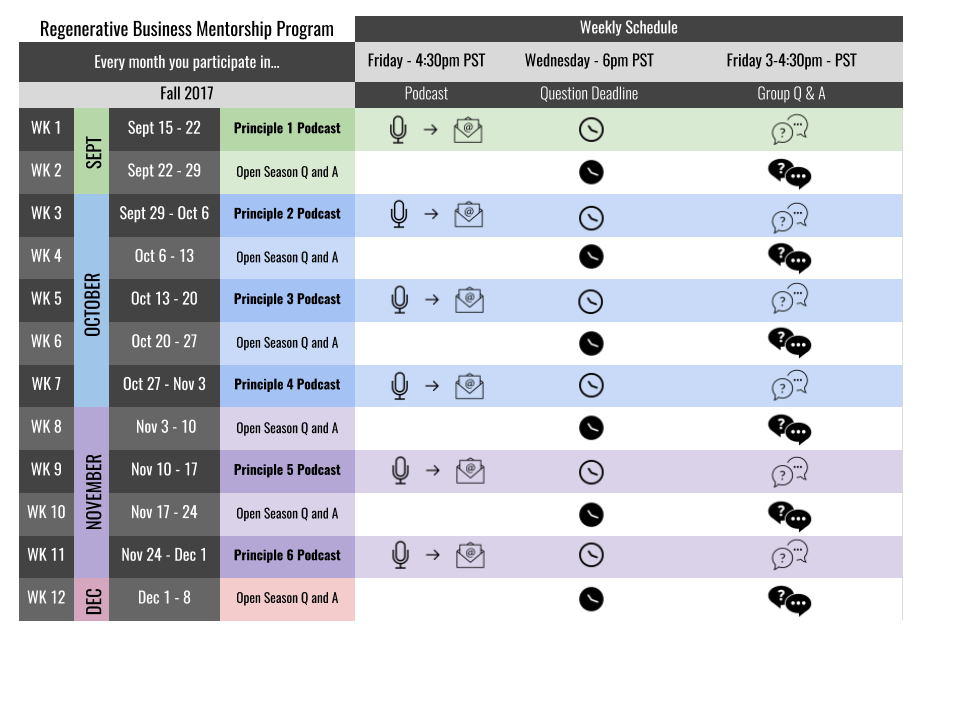 Now over to you...
For us, if we had the opportunity to be in this program 10 years ago when we started, we would have enrolled immediately. No questions asked.
The question you need to ask yourself is the same questions we all ask ourselves around business:
Who can help me get to where I want my business to be?
and
When is the right time to move forward?
As the saying goes, the best time to plant a tree is 25 years ago; the next best time is now.
And as Rob's kids would say, "if not now, then when, papa?"
When is ever a good time to get started?
Now.
Now is the best time to start and find yourselves exactly where you want to be.
If this isn't for you, thanks for reading to the end. It was an epic letter and we appreciate your reading.
And we also thank you for doing what you do. We wish you the very best in your endeavors.
If this is for you, we'll see you in September.
Tally ho,
Rob "I Love Leveling Up" Avis
Javan "Oh This Is Going To Be Good" Bernakevitch
Registration
The program will start Friday, September 15th, 2017. 
Weekly calls for this program will be Fridays at 11:30 am PST to 1 pm PST weekly until December 1st, 2017.
Can't make this round?
If you can't make this round, we'll be considering another Level 1 with Principles 1-6 again. If you're keen to be on the list for when registration is open click here.